We're a blueberry winery near Healesville, in Victoria's gorgeous Yarra Valley and we've been making blueberry wines for over 15 years.
Our family have been blueberry growers for two generations, and our business has developed over the years from a 4-acre blueberry farm in nearby Narbethong selling punnets at the roadside, to the winery and cellar door you see here today.
The property began as bare paddocks and slowly grew to be a lush patch of healthy happy blueberry plants where the first harvests were sold from the roadside. A shop front with cafe and packing shed were then built to accommodate the increasing quantities of fruit and the farm soon became a thriving commercial business.
Tragically Mantirri Blueberry Farm along with the family house, were destroyed by the Black Saturday bushfires on Saturday 7th February 2009.
Fortunately Badger Creek Blueberry Farm in Healesville had already been established and we were able to continue our business much like Mantirri Blueberry Farm had.
However, it became clear over the years that our business needed to change to accommodate our increasing wine production and our other venture of St Ronan's Cider and so we have evolved to become the winery and cellar door you see here today.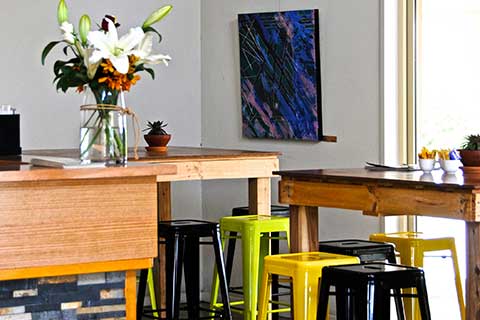 Blueberry Wine Tasting
We're often asked what blueberry wine tastes like, and whilst it's true that it is full bodied yet subtle, sweet and rich – we can't really do it justice with a description over a website, you really have to taste it for yourself. And to do that you'll have to come and visit us at our cellar door. Why? Because we're the only ones who sell it.
How we make it
Being a boutique producer, we only make small quantities of wine each year. We therefore don't wholesale our wines, because we sell it all ourselves, at our cellar door and here online. Despite the fact we make small quantities of wine each bottle contains a whole lot of berries; it takes more than a whole kilo of blueberries to make a 750ml bottle of wine. Imagine all that goodness!
Blueberry Wine Online
Our wines don't hang around either, once word gets out that the bottles are on the shelf, they're out the door like hot cakes. Especially the Blueberry Wine. To secure your case, buy it at our online shop today beat the rush. If it's not currently in stock sign up to our newsletter or follow us on Facebook or Twitter to have up to date info on our new releases.
We're also the cellar door for St Ronan's Cider – a joint venture we started back in 2012 with a couple of friends. They make three ciders for you to choose from, all made here at the Blueberry Winery. Enjoy a thirst quenching apple cider out of the tap or a method traditionelle cider in apple or pear. All available by the bottle for you to take home too! So… when you drop in to the cellar door for your blueberry wine tasting, you can sup on a cider too, before settling back to while away your afternoon with one of our regional platters and a glass or two of something. For more information on St Ronan's cider check out the website:
Fresh Summer Berries & Year Round Preserves
At harvest time our paddocks are brimming with berries, apples and pears for cider, as well as all the fruit for our preserves. We sell home-grown fresh berries in summer (from late Nov to January) – and frozen berries year round or until sold out, perfect for use in baking and making healthy smoothies – berries are a great anti-oxidant booster especially in those winter months. But always call ahead to avoid disappointment as mother nature is in control of our fresh berries and we have a limited supply of frozen berries.
We make enough preserves to keep you in stock year round, because according to our customers, they are a staple pantry item, quite literally 'goodness in a jar'. Our preserves complement cold meats, pair beautifully with a multitude of cheeses, can liven up a casserole, be spread on toast or stirred through Greek yoghurt.