Our cellar door is here at the winery and is a relaxed casual space set up for you to try our wines and ciders and enjoy a regional platter. Sit outside in summer on the patio surrounded by the hills of the Yarra Valley or inside by the fire in winter.
Tasting groups of over 10 require bookings.
Tasting fees are $5 per person.
Bookings
Our Wines
Have you ever tried blueberry wine? Like the fruit it comes from, it's semi sweet in flavour. It's nearer to red wine in colour, but more similar to white wine in how it's made, ie. straight from vat to bottle, not aged. And the best news of all, there's no need to cellar it as it is best drunk within two years, which makes it a great every day quaffing wine.
Blueberry Wine
A full bodied, subtle, sweet and rich – yet easy to drink. Made in vats, over about four months, goes well with sweet curries, cheese plates, desserts or as an aperitif.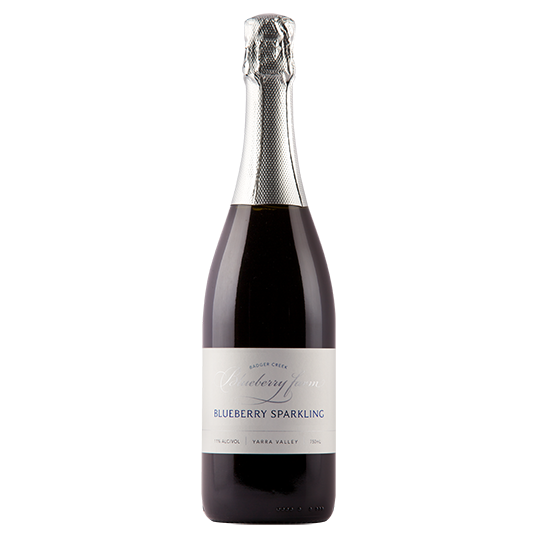 Sparkling Blueberry Wine
Made using méthode traditionnelle – the same method as good French champagne which is then left on lees for 6 months before being disgorged and corked. Makes a fantastic aperitif.
Fortified Blueberry Wine
Made in a port style, from blueberry wine and brandy spirit. Best served after dinner with cheese or desserts.
Aged fortified blueberry wine
Made in a port style, from blueberry wine and brandy spirit, then barrelled in French oak for 3 to 6 months. This process softens the fortified and adds vanilla and oak characteristics. Best served after dinner with cheese or desserts.
We are the cellar door for St Ronan's award winning ciders. They make two ciders using méthode traditionelle: an apple and a pear cider, both sold in 750ml bottles. They make a third cider, which is a lightly carbonated apple cider, available on tap or in 500ml stubbies.
You can buy it at our cellar door, from our online shop and in four states already, with more coming on board – look them up to find a venue/stockist near you.
We'd hate you to go hungry when you visit us. So we have painstakingly researched what goes well with a pint of St Ronan's cider or a glass of sparkling Blueberry Wine – and found to our relief that regional platters of the freshest produce, with a home-made preserve accompaniment, work the absolute best with both.
Choose from a grazing plate or cheese plate.  And head to our Facebook or Twitter page for details of our Sunday specials, like home-made sausage rolls that are quite simply designed to eat with cider.
Or choose our seasonal sweet treat instead.